Phone: (541) 485-2357 Fax: 541-485-2358 Address: 1410 Oak Street, Eugene, Oregon 97401
Use the following form to send email
DRIVING DIRECTIONS
From North - Go South on I-5 Toward Eugene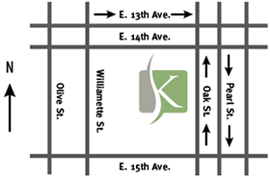 Go South on I-5 W/ OR-126 W toward Eugene
Take Exit 2 (Coburg Road) toward Downtown
Stay in RIGHT lane and turn RIGHT onto E. 8th Avenue
Turn Left on Pearl Street
Turn Right on E 15th Avenue
Turn Right on Oak Street - end at 14th and Oak
From South Go North on I-5 toward Eugene
Take Exit 189 - 30th Avenue Exit toward Eugene
Turn Left onto E 30th Avenue; E 30th becomes Amazon Pkwy
Turn Left E 19th Avenue
Turn Right on Oak Street - end at 14th and Oak
EMERGENCY INFORMATION
Our office hours are Monday - Friday (except holidays) 8:00 AM - 5:00 PM. If you have an urgent need after hours, please call our main line at 541-485-2357 and you will be transferred to our answering service.
If you have an urgent need, one of our two Urgent Care locations is available to see you as a "drop-in" patient. Eugene Urgent Care is open seven days a week at two convenient locations:
598 E 13th Avenue (corner of 13 & Patterson) - Phone: 541.636.3473 and,
1800 Coburg Road – Phone: 541.345.8760. Or, visit the website at http://www.eugeneurgentcare.com/.
Thurston Urgent Care, 5781 Main Street (Corner of 58th and Main) in Springfield. Phone: 541.654.0819
If you have an emergency, please call 911 or report to the Emergency Room at the nearest Hospital.